User Groups Filter¶
The User Groups filter group in the Filter Pane consists of a checkbox list and a search tool. Each of list items represents one user group inside of one of your Tableau environments plus five special checkboxes: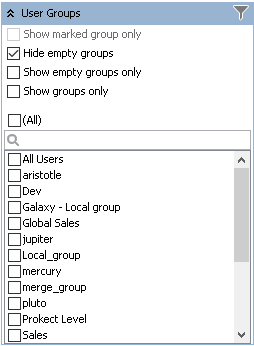 When you choose one or more groups, it limits the BI data shown in the Content Area to user accounts that belong to the selected group(s) only.
The list of user groups is cross-environmental (a plain list of all groups in all environments).
Note
If there are groups of the same name in several environments, they all be filtered.
Special checkboxes:
| Checkbox title | Description |
| --- | --- |
| Show marked group only | By default, it is unchecked and not editable. This filter activates automatically when you choose Show This Group Only in Tableau Users. When it is activated, you can click it to cancel showing a single group. |
| Hide empty groups | Set it and user groups with no users (indicated with a gray icon) will not be shown. |
| Show empty groups only | Set it and only groups without users will be shown. This checkboxes cannot be set together with the previous one. |
| Show groups only | Set it and only group nodes will be shown, and user account nodes will be hidden. This filter can be applied together with the ones above. |
| (All) | Set it to toggle between all groups being selected and all groups being unselected. |
When you change your selection of special checkboxes, your selection of particular user groups is cancelled, and the content area is updated according to the selection of special checkboxes only. You may want to check some of particular groups again.
If all groups are selected, or none of them, then the User Groups filter is not applied, and it does not limit the data displayed.