Setting Up and Running MMC
You need to install MetaMiner Tableau Edition Client (MMC) on all computers where end-users of MMTE will work.
It is a step-by-step process.
Preparing the Installer¶
Make sure you have MetaMiner Server is up and running (see How to Install MMS and MMA)

Check that you have the MetaMiner Client installer at your disposal (see Getting the Trial Version).

Copy the MetaMiner Client installer to a disk of computer where it should be installed:

Right-click on the executable file and choose Run as administrator to start the installation wizard:

Microsoft Defender protection pop-up opens:

Click More info.

Check a publisher of your file:

If it is Infolytik, INC, click Run anyway and proceed.

If it is not, click Don't run and stop immediately!

The User Account Control pop-up opens:

Click Yes.
MMTE Client installation wizard starts loading: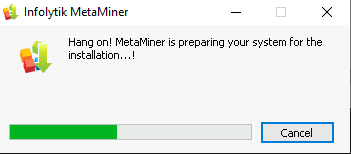 Installation Wizard Steps¶
The setup welcome screen opens:

Click Next >. The License Agreement screen opens:

Read the agreement and click Next >.

The Destination Directory screen opens:

Select the folder where you would like MMTE Client to be installed and click Next >.

The Select Components screen opens:

Make sure MetaMiner Client checkbox is set. Click Next >.

Installation process begins. The warning about closing all MetaMiner applications opens:

Click OK.

The setup wizard extracts and installs all the files and settings:

Wait until the process is fully complete.

Finally, the Completing the Setup Wizard screen opens:

Set the Run MetaMiner Client checkbox.

Click Finish. The installer will now launch MMTE Client:
Connecting to MMTE Server¶
Wait while MMC is loading. Finally, Connection Manager opens:

Specify the hostname or IP address of your MMS in the MetaMiner Server Host field.

The TCP/IP port is 49714 by default – leave it if you did not change it in MMA.

Click Connect. MMC starts connecting to MMS:

If MMS is connected successfully, green check marks appear:

Otherwise, some error message will appear. Click Details to get more information about possible reasons:

Click Apply in the Connection Manager window. The MMTE Client main window opens:
Now, MMTE Client is installed and connected to MMTE Server. It is ready for operation.