How MMTE Fits within Your Organization
Here we talk about typical implementation of MetaMiner Tableau Edition (MMTE) in a corporate landscape.
This study covers:
Placement of MMTE inside of an enterprise

Communication protocols

Network structure overview
The following diagram shows MMTE components, their users, some of your corporate infrastructure, and network zones, related to each other: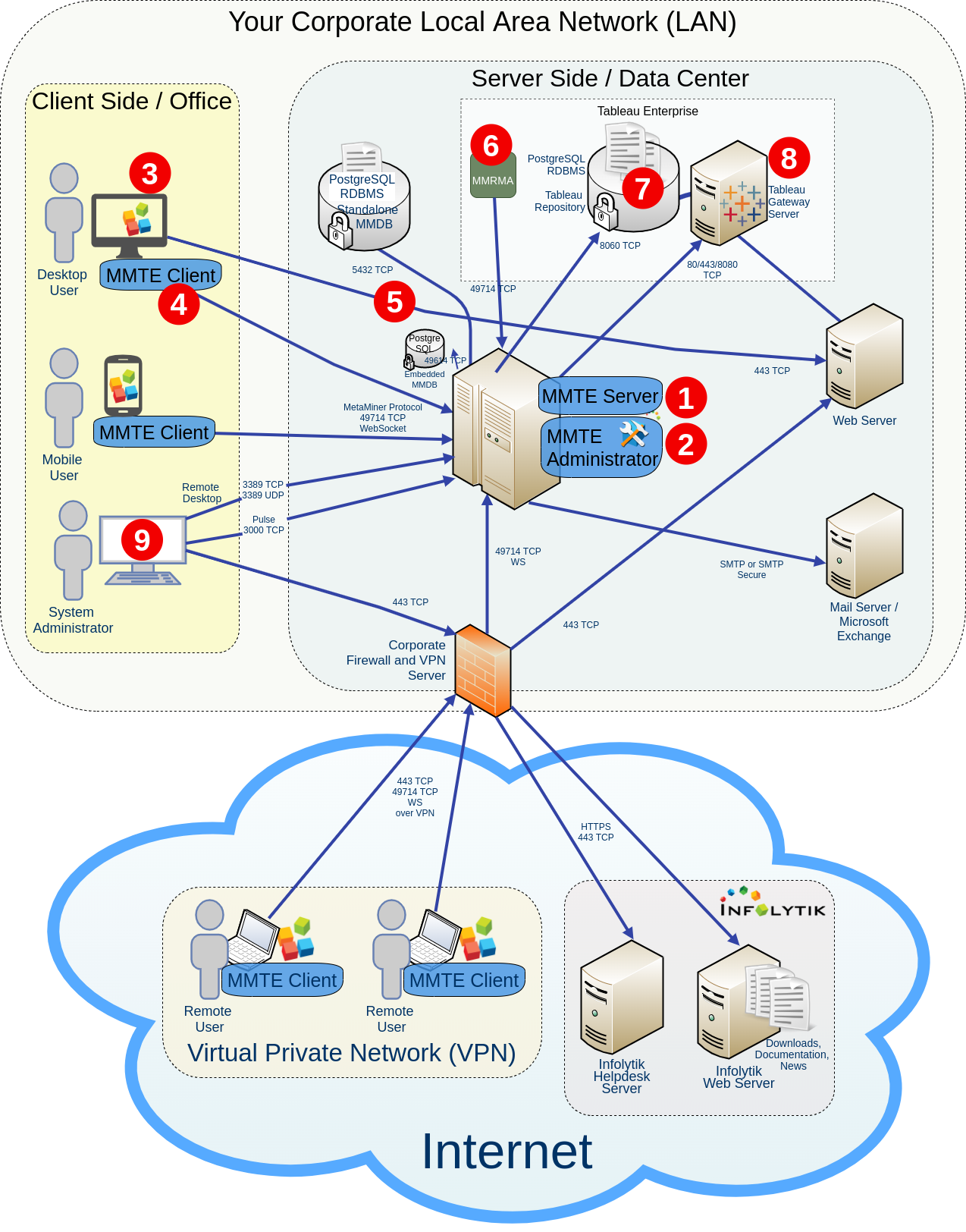 Explanation:

MMTE Server (MMS) is the center of your installation. It resides "on premises", in your local network, to provide security and performance. Physically it should be located on your corporate server computer or in a trusted data center.
Danger
MMTE Server should not be exposed for direct access from Internet by any protocol. It must be protected by firewall, VPN, and/or proxy.

MMTE Administrator (MMA) allows you to configure and operate MMTE Server. MMA always runs on the same computer as MMS.

Computers of your corporate users (data analysts, chief executives, others) connect to MMTE via office networks, LAN, or VPN. They use a proprietary MetaMiner network protocol (49714 TCP) to connect to MMTE Server and HTTPS (443 TCP) to connect to Tableau Online and supplementary resources on WWW.

MMTE Client (MMC) software is used for connecting to MMS. It can be installed on users' computers locally or only once on your terminal server (then users must first log in to this terminal server).

Your metadata is stored in MMDB which is hosted by either embedded or standalone PostgreSQL RDBMS

MetaMiner Remote Tableau Metrics Agent (MMRMA or tabagent) installed on the Tableau Server computer sends the metrics data to MMTE Server

Tableau Repository is a PostgreSQL database where Tableau Server stores your environment data

Tableau Gateway Server is part of the Tableau Software suite that is used to process requests through the Tableau APIs

System administrators use RDP to run the MMTE Administrator software to configure your installation and access Pulse/Grafana for monitoring
Data Exchange¶
For further details on data exchange between the components shown on a diagram above, please see Retrieving Business Intelligence Data.