Create Project
You can create a brand new project in the selected environment with this command.
Warning
This command is available for site and project objects only.
Choose it from your context menu to open the Create project dialog window: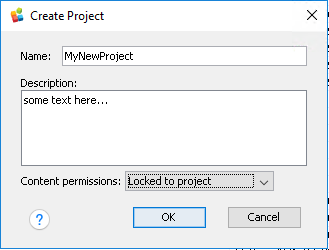 Setting
Description
Name
Specify a display project name. It can contain any visible characters.
Description
Specify an optional free text. It will be saved and later displayed in the Properties dialog window.
Content permissions
Choose Managed by owner to allow users to manage permissions for content that they own or Locked to project to lock permissions so that users cannot overwrite the default permissions set for the project.
Note: this field is available only if you create a project at the site level. Otherwise, permission settings will apply automatically.
Click OK to proceed or Cancel to close the dialog window without creating a project. If you proceed, the Creating project... pop-up opens. Wait while a new project is being created.