MetaMiner Tableau Edition Administrator (MMA or MMTE Administrator) is the powerful, lightweight application used to configure MMTE Server, Pulse, and other related components.
It always resides on the same computer as MMTE Server: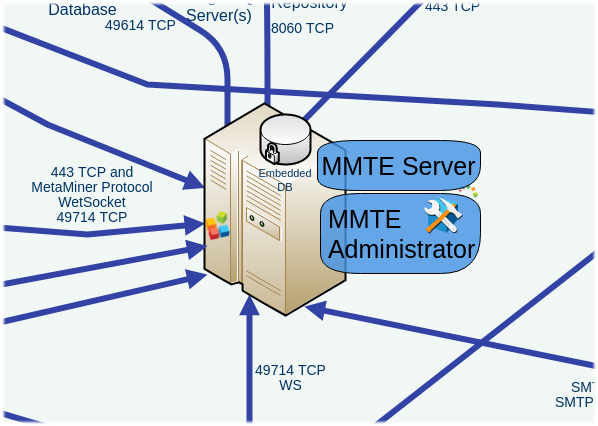 MMA Responsibilities¶
BI architects and administrators use MMTE Administrator to configure and manage how your BI landscape is available to MMTE Client users.
Its main responsibilities are:
MMTE Administrator allows you to identify and configure (for use with MMTE Server) your corporate BI capacities:
Tableau environments
MetaMiner Database
Additional/advanced MMTE Server engine settings
For a more detailed review of its capabilities and how to use them, read topics in this chapter.
We have already discussed the configuration of MMTE. This chapter dives into much more detail about the various options that allow you to customize certain aspects of data collection, security, and MMTE Server connectivity.
Opening MMA¶
To open MMTE Administrator:
Log in to the Windows Server computer where MMTE Administrator is installed.

Launch the Start menu by pressing the Windows key or by clicking the visual Start button. The Start menu opens:

Choose MetaMiner Admin from the Start menu or from pinned applications:

Windows User Account Control pop-up will appear to ask for your permission:

Click Yes. MMTE Administrator starts loading.
Finally, its main window will open: