[Add Related Objects] (N) [+]¶
This command is for adding a new layer of related objects in the content area of Tableau IA.
It is available for the last existing layer of objects, only. As layers are always added at the right side, the command is available for objects at the very right part of your graph.
To add related objects to some previous layer (e.g. if you want to choose other types of related objects), you need to hide unwanted objects first. For this, double-click a vertex they are connected to.
Select an object in the content area that is already displayed. Right-click it to open a context menu. The Add Related Objects command includes several items at the top of the context menu, for example: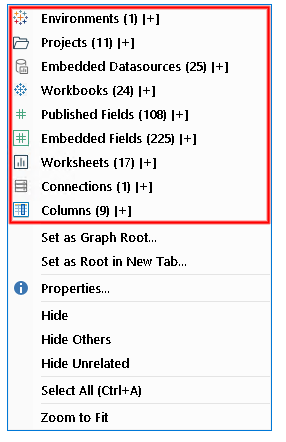 Here we have 9 items, from Environments (1) to Columns (9), which indicate business objects impacted by changes to the selected BI asset. One item for one object type. The number in brackets (1, 11, 25...) shows how many impacted objects of this type are found.