Landscape Monitoring for SAP BusinessObjects¶
Pulse allows DataOps/DevOps and others to quickly see, in real time, the health of their analytic platform and monitor vital statistics such as response time, memory and CPU usage and process-specific behaviours.
It also offers deep correlation between system performance and resource usage and the users and assets of your analytic platform to help answer difficult questions such as:
Are users encountering slower dashboard response times at certain times of the week?
Do we run schedules or extracts during times of peak interactive use? Of what?
Pulse Architecture¶
(content pending)
Installing Pulse¶
Pulse is installed alongside MetaMiner - there is no separate installer for it. However, not all license keys support Pulse. If you are unable to launch Pulse then please contact Infolytik support to review your licensing arrangement.
Installing the Remote Metric Agents¶
In order to monitor real time performance metrics of your SAP BusinessObjects landscape at the process level, you must deploy the MMRMA or MetaMiner Remote Metric Agent. The following steps will walk you through that process: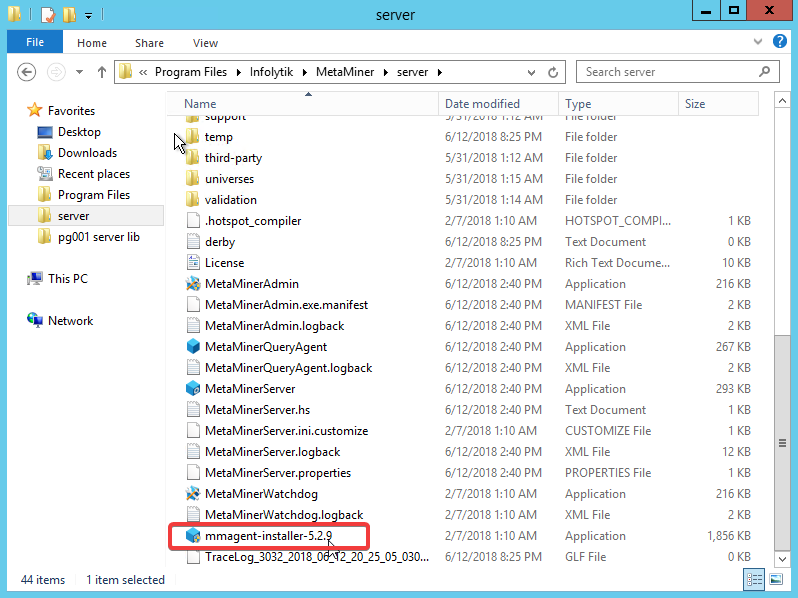 Location of the **MetaMiner Remote Metric Agent* Windows Service installer*
Installation Steps
Navigate to your MetaMiner Server folder, usually something like <drive>\Program Files\Infolytik\MetaMiner\server
Locate the file named mmagent-installer-5.2.9.exe
Copy this file to each one of your of your SAP BusinessObjects nodes that are running any type of BOBJ server components
Double-click the file and complete the wizard. Make sure to install to the C: drive only.
Installation Video Walk-thru for MMRMA:
Mandatory C: Installation
It's mandatory that you install the MMRMA to the C: drive.
Launching Pulse¶
Launch a new web browser from your workstation or mobile device
Point the browser to http://<metaminer_server_host>:3000
When the login screen appears, use the system defaults for user/password, or admin/admin
You are now logged into Pulse
Firewall Requirements for Pulse
Pulse is hosted internally from the MetaMiner Server and uses Port 3000 by default. This port must be open in order for users to connect to Pulse
Testing Sample Dashboard¶
Infolytik support will provide new dashboards via the customer portal (https://community.infolytik.com) or other means.
The following video will walk you through this process from importing to testing a new dahsboard.
Why can't I click the download links below?
You must be logged on to the Community Portal to access downloads, releases, etc. Go here to see how that's done - Accessing Infolytik Community Portal
Note
You do not need to actually find and download these files - they are automatically linked from the community site. But you do need to be logged into the community portal for these links to work.
Download:
P1. Core Performance 2 Dashboard

Download:
P2. CPU Performance Dashboard

Now, go to the dashboard dropdown to confirm the new dashboard is present.