Enabling SSL in MetaMiner Postgres database¶
MetaMiner Postgres database SSL is enabled to accept encrypted connection requests from the client for secure communication.
Enabling the SSL¶
Go to " \\Program Files\Infolytik\MetaMiner\server\data\mmdb"

Edit file postgresql.conf

Find line "ssl = off" and change it to "ssl = on"

Save the file
In the below section, we're using a self signed cert generated using OpenSSL Library and the below workflow is also applicable to Trusted CA signed SSL certs as well.
More information on cert generation : Postgresql SSL
Important
For organizations, it is recommended to get these certs from your network/security team by providing the required server information.
Private key format : PKCS8
Crt format : DER
Place those generated cert and key in "\\Program Files\Infolytik\MetaMiner\server\data\mmdb"

Go to MetMiner Admin -> click on "Configure MMDB"

Click on "Use SSL" checkbox

Click on "Validate and Close" button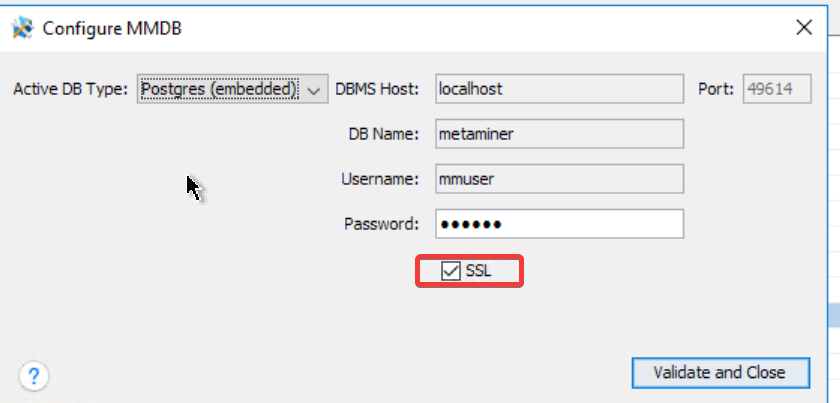 NOTE:
MetaMiner validates the SSL and the connection information and closes the "Configure MMDB dialog box" upon successful validation.