Well, we're finally back from SAP Insider's excellent event: BI/HANA Administration 2019 EMEA. This was a typical, well-run event by SAPInsider which allowed us to meet with some great customers, like Honda Motor Europe and Zurich. The themes were largely around SAP Analytics Cloud, S/4 HANA and SAP Cloud Datawarehouse.
But let's face it folks: SAP BusinessObjects continue to be responsible for serious reporting & analytic workloads and remain major investments for SAP Customers. And that was largely our focus at the event: To talk more about how Infolytik is helping customers like Honda, Zurich and many others to successfully evolve reporting by optimizing and streamlining management and administration automation of SAP BusinessObjects for reliably but hands-free operations while allocating more time for more strategic efforts (hybrid BI, cloud migrations, BOBJ rationalization).
Here are the sessions we did (videos coming soon!)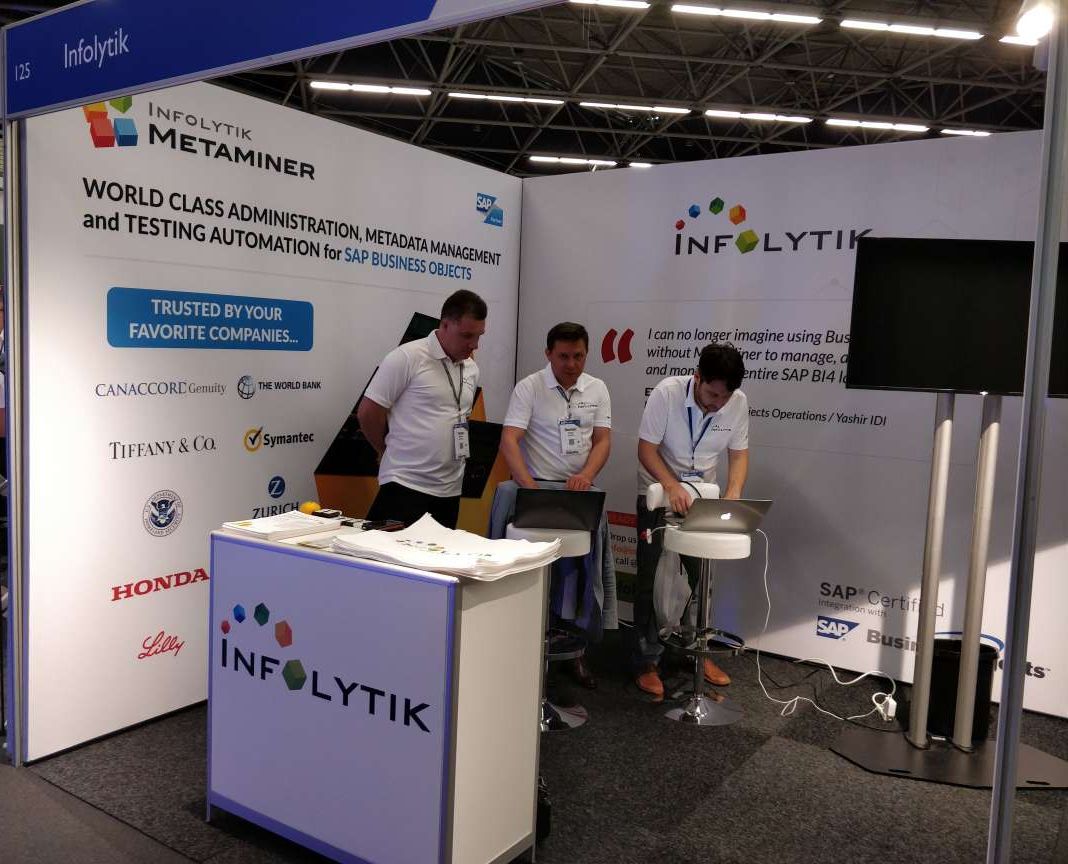 Impact 20: Lessons from the Trenches: Honda Europe's Migration to BI4.2
Exhibit Theater 7
Migrating to SAP BusinessObjects BI4.2 is no small task, especially when the story starts at version XI3.
And while SAP themselves no longer support this older version, many customers are only now making the big jump to 4.2 in order to enjoy new capabilities around multi-source universe, hybrid SAC scenarios and more.
In this session learn about what tools were used to maximize efficiency and eliminate risk in the migration process including:
Managing migration deltas in live systems
Report regression testing and ensuring data integrity across migrated/upgraded versions
Tools of the trade: How Honda leveraged 3rd party tools to accelerate tasks and timelines
Speakers:

Atul Chowdhury ,
Ludo Geerts
Well-oiled machine: Managing Zurich Insurance's SAP BI4 delivery engine

E104

Large and complex analytic landscapes like the one found at Zurich Insurance have many moving parts. And it's the careful orchestration of these parts: data sources, reports, security, users and groups of SAP BusinessObjects – that must be executed flawlessly in order to keep users happy with consistent and predictable performance. And all while keeping costs minimized without burdening IT with unwanted expenses. In this session we learn how Zurich:

Implements a chargeback framework by distilling key BI platform metrics from the SAP BusinessObjects platform to generate a payment model for its internal customers
Accelerates SAP BusinessObjects administration tasks like security administration, system cleanup in order to keep the footprint lean and effective
Manages special projects like SAP BusinessObjects migrations in record time with minimal disruption to end-users

Speakers:

Atul Chowdhury ,
Marek Chladny